With an electric coffee maker, your day is easier and more practical. Check out our list of the best electric coffee makers to buy, and choose yours!
Electric coffee makers stand out for their cost-benefit and practicality of use. Increasingly smarter, coffee makers come with features that make our lives easier, such as a timer (to program when to make coffee) and automatic shutdown (for those who usually forget everything connected when leaving home).
In addition to the features, the look also receives special care, with beautiful designs and refined finish. That is, they are also taking on the role of decoration item in your home or office.
The options are many, and so are the prices. Starting at R $ 50, you get an electric coffee maker. But is it worth it? What features do they bring? Is it a good buy?
Introducing the best electric coffee makers to buy in 2020
With that in mind, we put together this guide with the best electric coffee makers to buy in 2020. We selected these models based on the evaluation of several criteria, such as user recommendation, cost-benefit, features and functionality, etc.
There are 5 cool models for you to have at home and make that tasty cup of coffee with ease and practicality. Check out our suggestions, and choose yours!
Oh, and also check out our shopping guide, with various reviews and reviews of electric coffee makers and capsules!
Oster Flavor 4401 Electric Coffee Maker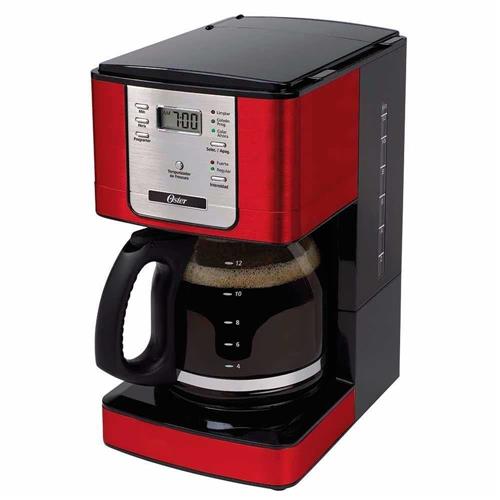 Beautiful and functional: This is how we can summarize the Oster Flavor 4401 electric coffee maker. About its beauty, it goes without saying, because the design of its housing in resistant plastic and brushed steel speaks for itself.
In the field of functionality, the Flavor coffee maker has a digital timer that allows you to program the operation of the coffee maker up to 24 hours in advance, choose the intensity of the coffee (regular or strong).
Another interesting function of the Oster 4401 is the automatic cleaning cycle, capable of cleaning waste from the coffee maker. Capable of making up to 1.4 liters of coffee (equivalent to 12 cups), Oster's weak point is the jar, which is a little fragile.
Cadence Single Colors Electric Coffee Maker
We already talked about Single Colors here on the site.
With an excellent cost-benefit ratio, the Cadence Single Colors electric coffee maker stands out for its visual appearance with rounded lines and compact dimensions, in 4 vibrant colors (blue, purple, red and yellow). Single brings an instant coffee concept: it makes 1 or 2 cups of coffee, which must be consumed on the spot (it does not have a jar).
Very simple to use, it has a removable filter, measuring spoon and even 2 cups. Cadence Single Colors does not have a drop cutter, so you should be careful to turn it off before it overflows your cup with coffee.
The water tank has the marker with the appropriate level that you must fill to make one or two cups of the drink; just obey it to not have coffee spilling into the kitchen.
Philco PCF38 Platinum Electric Coffee Maker
With a brushed steel finish and futuristic design, Platinum is a beautiful and modern electric coffee maker. It also stands out for its convenience: just set the coffee maker clock and schedule the preparation so that it makes coffee at the time you want.
The Philco PCF38 Platinum Coffee Maker prepares up to 38 coffees, thanks to the water tank with good capacity of 1.5 liters.
The aroma function (with three levels), provides greater intensity to the flavor of your coffee. Once ready, Philco PCF38 keeps the drink warm without changing the flavor, as it has a heating plate.
With removable permanent filter, it does not require the use of the paper filter, providing greater convenience and savings. It offers a drop-cut system, which allows the removal of the jar while the coffee is being prepared.
Mondial Bella Arome II C-09 electric coffee maker
For those who don't want to spend a lot, the Mondial Bella Arome coffee maker is a great option. Simple and easy to use, it also has a brushed steel finish, and prepares 6 to 14 cups of coffee with practicality.
Mondial's Bella Arome has a non-stick heating plate, keeping the coffee warm, in addition to the drip-cutting device, which does not let dirt in your kitchen. The Mondial Bella Arome comes with a measuring spoon for coffee powder, and comes with a removable permanent filter, eliminating the use of the paper filter (more savings for you).
Because it is cheap, practical and makes delicious coffee, this is one of the best electric coffee makers to buy.
Electrolux Love Your Day CMM20 Electric Coffee Maker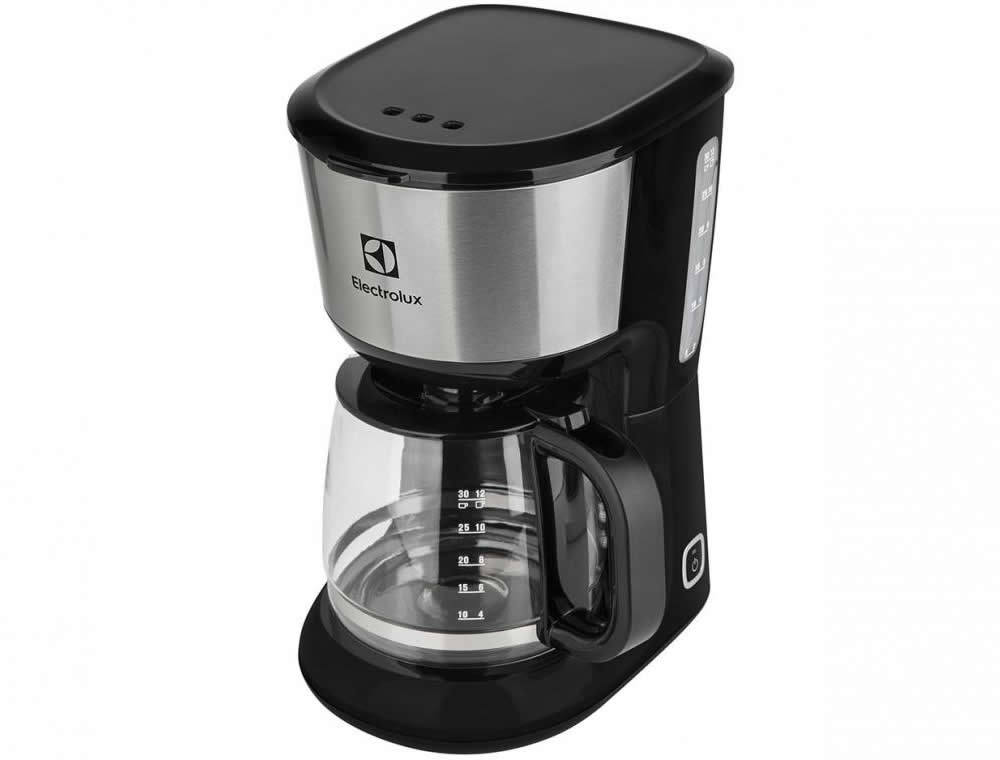 If you are looking for a model from Electrolux, our tip is Love Your Day CMM20. How can I not love a coffee maker with that name in the first place?
In addition to the modern brushed steel design, the Electrolux CMM20 coffee maker makes 30 coffees (50ml). It is also full of features that will make your day to day easier: it has a great drip-stopping system, removable filter, refractory glass jar, automatic shutdown and operating indicator lights.
The heating base of the jar preserves the flavor and temperature of your coffee. With so many features, the Electrolux CMM20 is the perfect coffee maker for you to love your day, right from breakfast.
Looking for a capsule coffee maker?
From R $ 300 it is possible to have a capsule coffee maker from the main brands in the market at home. want to meet?
summing up
For those looking for a good electric coffee maker, we have put together a guide with the best electric coffee makers to buy in 2020. We selected these models based on the evaluation of various criteria, such as user recommendation, cost-benefit, features and functionality, etc. There are 5 cool models for you to have at home and make that tasty cup of coffee with ease and practicality!
How does the Globinho Coffee Maker work?
Have you heard of the Globinho Coffee Maker?
Special coffees using special methods! Globinho coffee maker is another method for preparing coffee.
Also known as Siphon (Syphon), Vacuum Coffee, vacuum coffee, vacpot, the Globinho Coffee Maker impresses. Preparing coffee, or watching coffee brewing in this method reminds us of classes in chemistry labs. Impresses! It is really quite private.
Many people still don't know it, but the Globinho Coffee Maker is not that modern .
Speaking a little about the history of the Siphon … You will see that this method of preparation has been around for longer than I imagined. It was in Germany, in 1830 (CARACA!) That the first patent registration for the method that works on the principle of vacuum thermal transfer appeared , but here among us it was not so successful right away.
It is said that the spread and production in scale of Cafeteira Globinho took place even 10 years after the patent was registered. When Frenchwoman Marie Fanny Amelne Massot made an incredible design (with a beautiful feminine touch) and won the hearts of those who enjoyed coffee!
We can say that it was a method that contributed a lot when thinking about caffeinated experience! Coffee left to be prepared in the kitchen and started to be prepared on the table! Who doesn't like to have coffee prepared right in front of them? The ritual of preparing coffee really pleases (in addition to being too fragrant).
If you like the experience, be sure to watch a coffee preparation at Cafeteira Globinho. It is intriguing, it looks magical and it fills everyone's eyes.
Very cool! But how does the Globinho Coffee Maker work?
As I said above, it looks like magic, but the method works by the principle of vacuum thermal transfer. Calm that is easy to understand!
The siphon method consists of two glass globes. In the lower globe water is added, it fits with the upper globe and then the whole set must be on the flame.
The fire heats the water and it "rises" to the upper globe – one of the coolest parts of the method, in my opinion – When the water is on top, add the coffee powder, then just mix (with care), leave infuse for a while and then just put out the flame. The lower globe loses temperature creating a vacuum and the coffee returns through the filter and separating the solids from the final drink.
A filtered, infused coffee.
Practicality doesn't always count when making coffee. The experience counts and counts a lot when you have a certain level of curiosity and demand with the drink we drink, right !?
If you want practicality, we recommend the Italian coffee maker for example. If you want a more complex and interesting experience, don't think twice and choose the Globinho Coffee Maker.