Do you use an electric coffee maker? I already had the habit, but I'm a fan of the taste of coffee, and today at home only coffee produced in the old fashion, with boiled water on the stove (and disposable filters) comes out. But for some time we were daily victims of an electric coffee maker, and we ended up getting used to a reality that is that of many users of this perverse device: the first coffee of the day (just the most important) never came out with the same quality as the others.
And the worst thing is that those who only make coffee once a day can even spend years consuming a product of a quality far below the potential of their appliance, without realizing or discovering it. But that's what is here for, and it comes to your rescue with the tip that can resolve the issue.
In our case, donating the coffee maker to those who needed it, and then adopting the old-fashioned coffee, completely solved the problem of breakfast at home. But there are cases – as in office cupboards, for example – when the electric coffee maker is the best alternative available, and in this case the tip that came from Newsweek via Lifehacker can mean a huge leap in quality in your daily dose of caffeine.
Effectiveness in coffee maker coffee
And the tip is very simple: the first coffee of the day does not come out with the same quality as the others because – except in the best coffee makers on the market (it is not enough to just be a "good brand"!) – the coffeemaker's thermal capacity is not enough to ensure, at the beginning of the operation, that the water passes through the entire process at the appropriate temperature. It starts the cycle, still in the reservoir of pure water, at the right temperature, but it cools down on the way, and this ends up severely affecting the quality of the solution that drips into the refractory jar.

An Italian coffee maker (moka) also produces a tasty alternative
But solving this is simple, and it is something that many experienced people already do, giving up some of the haste and energy efficiency of the device in the name of more quality for the final product: just fill the reservoir with a little more water than than usual and put the coffee maker to do a complete cycle without adding the filter (nor the coffee powder, of course). When you're done, empty the hot water from the refractory jar directly into the tank again, and then start another cycle – this time with filter and coffee powder.
With a uniform temperature, the infusion will also gain quality, and the final product you will drink will be closer to the expected flavor – as long as you take it soon, and do not leave it there on the plate for a long time.
The same effect can be achieved by heating the water first in a kettle or some other faster and more efficient heat source, but eventually the degree of effort (and the multiplication of appliances that will need to be cleaned later) will no longer compensate, and you will end up realizing that it is more worthwhile to use another method – that's what happened here at home.
Or you will resign yourself and take that coffee-like infusion that the electric coffeemaker releases at the end of its initial cold operation – which, if not the best it can do, is also not so bad as to be despised by those who don't you have these extra minutes to spend.
And if all else fails, you can always consider having coffee at the bakery on the corner of work until the day comes when you can buy your own espresso machine 😉
Is it worth buying a coffee maker? .More oster programmable coffee maker review
I love drinking coffee, so I wanted a coffee maker to make this moment more practical. I started researching well before I bought (I am still spending months researching) and right away I fell in love with the Electrolux Programmable coffee maker. Unfortunately at the time I didn't I could still buy it, when I finally got the money to buy it it was already out of line.
I started researching again and nothing pleased me, the coffee makers were very simple and I wanted something more sophisticated and with more technology. Navigating the americana website I found a coffee maker in the promotion, it was how I wanted stainless steel, programmable, beautiful and cheap. Of course, I didn't miss the promotion, now I'm going to talk a little bit about it.
As soon as she arrived, I fell in love, I thought she was beautiful, and I went running to prepare my first cup of coffee, she already has all the measurements and since I live alone I prepared 2 cups of coffee. for me it is essential because I love to feel the smell of coffee) in less than 4 minutes the coffee was ready, smelling and tasty. It also has the programmable function, you program the time, wake up with the smell of coffee. It also beeps when the coffee is ready. The cool thing is that it keeps the coffee very hot for up to 2 hours and then turns off automatically. The only negative point is that every time I take the jar from the base, a little bit of coffee always falls (I confess that it annoys me a little).
And yes I think it's worth buying an electric coffee maker, if you work and don't have much time. It was one of the best investments I've ever made.
Méliuz tips for home: Best espresso makers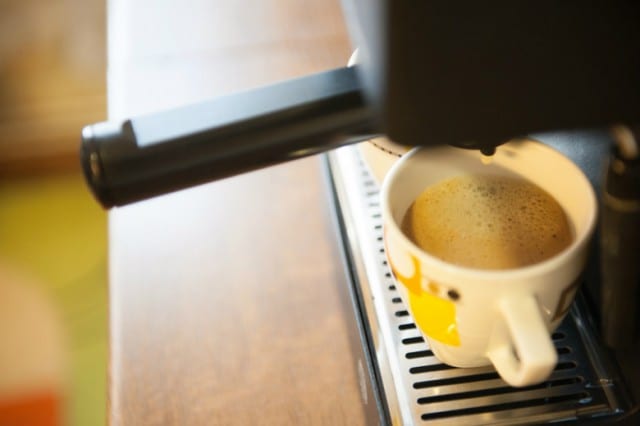 Anyone who likes coffee can hardly resist the smell, taste and texture of espresso prepared in coffee shops and restaurants, right? But what if you could have a machine like that to call yours?
Have you ever imagined preparing your espresso at home whenever you feel like it? Well, enough dreaming! Discover now the best espresso makers and learn how to choose yours!
Where to start?
Being a coffee lover doesn't necessarily mean being a professional barista, right? So, for anyone who is a layman in the art of extracting an espresso, that machine full of parts and buttons may seem like a crazy scientist. But don't worry! Here's what you should consider when choosing your coffee maker:
Brand
In general, the best espresso machine manufacturers are manufactured in Switzerland, Italy and Spain, which supply equipment for the professional market worldwide. So, just knowing that the device comes from these lands is already a good indication.
Steam
Do you like pure espresso or do you prefer a macchiato ? In the second case, it may be interesting to opt for a coffee maker with a steam tube system – also called a cappuccino maker – to make that delicious froth in milk.
Grinder
There's no way: as soon as we open the bag of coffee it starts to lose flavor and aroma. So, if you want to guarantee the maximum freshness of your favorite drink, bet on a coffee maker with grain grinder.
Space
That machine that looks like a car engine certainly shouldn't be bad, but does it fit in your kitchen? As, unfortunately, you cannot go without a stove and refrigerator to accommodate a huge coffee maker, remember to consider this point in your searches, ok?
Time
There is no point in choosing a professional machine, full of functions and resources if you will never have the time or patience to use them, right? Thinking about it, know how to choose between those where you will have to do almost everything, that is, manual, automatic or semi-automatic and even those with capsules, which hardly make any dirt or give any work!
What models to analyze?
Now that you know at least the basics, you can safely choose from our suggestions! Then check out the models we separated for you to take a look:
Saeco Intelia, by Philipps
Fully automatic, this espresso machine comes with an integrated grinder, steam tube and allows the user to choose the intensity of the coffee, in addition to also being able to make only hot water for that night tea.
Gran Maestria, by Nespresso
Do you want a coffeemaker with more features, such as a cappuccino maker and cup warmer, but don't have time to grind beans, press dust and clean machine parts every morning? Gran Maestria can do it all for you! It works with Nespresso capsules and also has different foam textures for hot or cold milk. In fact, to find out more about the brand, be sure to check out our article on nespresso coffee makers.
Baby Twin, by Gaggia
Very compact and with the possibility of preparing two espressos at the same time, this machine is perfect for a life for two who do not have much space in the kitchen, but do not give up preparing an espresso every morning. This semi-automatic model also has a vaporizer and is very easy to clean.
S1, by Vivaldi
A machine for those who want to learn how to prepare a good espresso, the Italian Vivaldi's S1 does not come with an integrated grinder, but because it is semi-automatic, it gives you more freedom for you to try different amounts of powder and pressure. It also has a steam tube and plate to heat the cups!
Pixie by Nespresso
Finally, if you just want to be able to drink your creamy espresso every morning without having to set up an entire counter in your kitchen for a machine that will make noise and dirt, Pixie is your choice! In addition to having a very affordable price, it is tiny and very easy to use!
Where to buy these espresso makers?
You can find these coffee makers in specialty stores, but also in department stores and markets.
However, if you want ease and agility, you want to buy from Méliuz's partners! You get unmissable discounts, plus cashback in your bank account. Check out:
After that conversation, I even wanted to go for a warm espresso, right? So choose your machine to be able to prepare one whenever you want and be sure to comment telling which one you want to buy!
By the way, take a look at our post on traditional coffee makers. Maybe you already take one of each?