Is the Hamilton Beach coffee maker good? Get to know this newcomer company better in Brazil, and see three good options for branded coffee makers. Check out!
Although traditional in the USA, the Hamilton Beach brand is still little known by the general public in Brazil. The Hamilton Beach line of coffee makers is varied, and has an electric coffee maker option for every taste. Present in the national market since 2013, HB brought to the national market some coffee makers of this line. But is the Hamilton Beach coffee maker good? Find out with us!
The Hamilton Beach brand
Founded in 1910 in the United States, the brand is named after Louis Hamilton and Chester Beach. The brand's first product was a beverage mixer, launched in 1911.
A year later, Hamilton Beach launched a light and high-speed electric motor for the time, which started to equip the most diverse domestic appliances, such as blenders and mixers. It was the beginning of a successful company, present in several countries around the world.
Hamilton Beach currently manufactures various electrical appliances such as mixers, coffee makers, ovens, blenders and food processors, among others.
Hamilton Beach officially arrived in our country in 2013. The company does not yet have a factory in Brazil, that is, the products are all imported.
Hamilton Beach Coffee Makers
Here in Brazil, Hamilton Beach has 5 models of coffee makers available, according to the official website. Each model has a particularity, and they are in different price ranges.
You will find that Hamilton Beach coffee makers have good manufacturing quality and a design that prioritizes functionality. They are not necessarily beautiful, but they are very practical. The finish of the electro may also be lacking in some models.
Hamilton Beach offers a 3-year factory warranty for its coffee makers. A constant complaint is about the size of coffee makers. They are really quite robust.
In this post, we'll look at three Hamilton Beach coffee makers.
Hamilton Beach BrewStation Elite Coffee Maker
This electric coffee maker is a little different from the ones we usually see around. It uses ground coffee and water, like conventional electric coffee makers, but its operating logic is a little different: It doesn't have a jar, like the Cadence Single.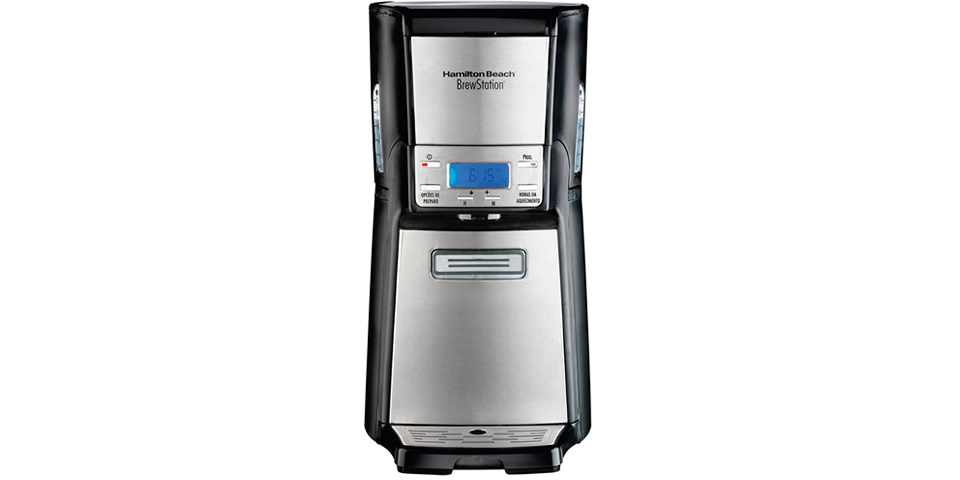 This may seem strange, but it is a good idea. The water and coffee are stored inside the coffee maker and you use the drink directly on the dispenser lever, avoiding splashes and conserving the quality of the coffee for longer. The mild heating plate ensures that the last cup of coffee is as tasty as the first.
BrewStation Elite also does not use a paper coffee filter (uses a permanent filter), and holds up to 35 cups. The drink can be prepared in different nuances, like normal, extra strong and iced coffee.
It has a digital display and button control that allows you to prepare the drink at the touch of a button. Speaking of practicality, one of the attractions of the BrewStation Elite is the digital clock, which allows you to program the preparation and automatic shutdown of the coffee maker for the time you want.
The design is a little different from what we are used to seeing when it comes to electric coffee makers. But it is classic and elegant in its own way, with stainless steel design. The cup tray can hold tall glasses, and the permanent filter dispenses with the use of paper filters.
Anyone who has bought this coffee maker complains about its size: BrewStation takes up a lot of space, and does not fit in low cabinets. Another point against it is that it is a little annoying to clean.
The cost benefit is reasonable: Hamilton Beach BrewStation Elite is a good coffee maker, but it costs almost 400 reais.
Hamilton Beach 2-Way Brewer
Hamilton Beach 2-Way is a coffee maker that can work in two ways. This guarantees versatility and more ways of use, an interesting option for places where the flow of people can vary constantly.
On the one hand, you have an individual coffee maker, where you can serve one cup at a time. Similar to the original BrewStation, it holds 12 cups. The adjustable base accommodates several mug sizes and a permanent filter.
On the other side, on the same device, you have a conventional coffee pot. Capable of serving up to 35 cups, it features a programmable clock that automatically turns the machine off in up to two hours. You can schedule the preparation and automatic shutdown for the time you want.
The Hamilton Beach 2-Way Brewer can be found in stainless steel and red, which I particularly found most beautiful.
The complaints of consumers are the same: difficulty in cleaning and the size of the coffee maker, which is high for low cabinets.
Hamilton Beach Multi Tea and Coffee Maker
At home, I like coffee. My wife prefers tea. There are two different preparations, two different jobs. Hamilton Beach solved this problem in a neat way by joining two devices in one.
The Multi Tea and Coffee Maker allows you to prepare tea and coffee at the same time, because in addition to a coffee maker, it is also a hot water dispenser.
As the water reservoirs are separated, it is possible to program the coffee while using the hot water dispenser to prepare tea, chocolate, or other hot drinks.
The coffee side makes up to 35 cups of coffee. With a digital clock, both sides can be programmed up to 24 hours in advance (independently) and the automatic 2-hour shutdown brings security and energy savings.
With Hamilton Beach's Coffee Maker & Hot Water, we have more versatility in a single device. Why nobody thought of it before?
Summing up
Hamilton Beach is a little-known brand in Brazil, and has lines with several electrical devices for home and kitchen. What about the coffee maker? Is the Hamilton Beach coffee maker good?
We analyzed three different models of the brand. Hamilton Beach is a good coffee maker, which tries to bring more versatility to our daily lives. The BrewStation Elite model keeps the coffee tasty and dispenses with the use of the jar. 2-Way Brewer offers two ways to serve coffee: individually or through the jar. And Multi Chá e Café has a hot water dispenser, giving new use to the coffee maker.
Coffee maker on Black Friday: The cheapest to buy!
Looking for a good coffee maker promotion on Black Friday? We have separated the best offers of espresso coffee makers from the internet. Check out!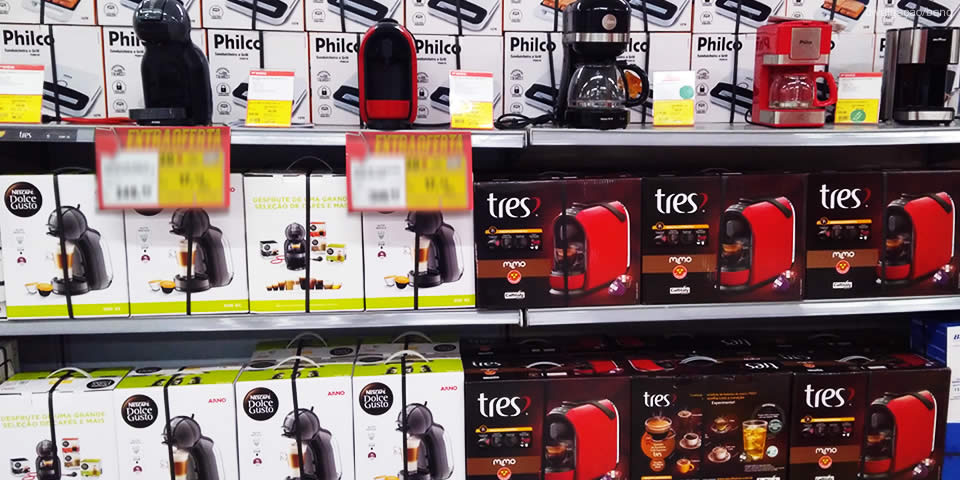 Looking for a good coffee maker promotion on Black Friday? We will help you on this mission. We have separated the best promotions of espresso coffee makers in the country. Come with us and get your coffee maker on Black Friday with economy and security!
Price search: coffee maker on Black Friday
Black Friday is your opportunity to buy an espresso coffee maker at lower prices. To facilitate your search, we have separated coffee makers into groups. Check the price search, in real-time, with the best offers … and choose your coffee maker!
Important: Values ​​are obtained automatically and may vary. Information is the responsibility of retailers.
Black Friday
Black Friday is a date where physical and virtual stores make promotions of various products, such as coffee makers, TVs, notebooks, cell phones, clothes, books and others. The event has been "imported" from the United States since 2010 and takes place on the 4th Friday of November, after the American Thanksgiving holiday.
It is considered the first official day of shopping for Christmas. This great event reached R $ 2.1 billion in sales in 2017 in Brazil and each year the number only increases!
How to buy on Black Friday
With so many offers popping up on the internet, consumers need to be careful not to blow their budget or be fooled by false promotions and unreliable stores.
Check out some tips for you to buy your coffee maker on Black Friday safely:
Before Black Friday
To avoid unnecessary purchases, make a list of what you want to buy on the day of promotions, and set the maximum amount that can be spent. Check your credit card to make sure the limit is available for your purchases.
During Black Friday
Be careful with products that are too cheap. Ask if it can be a fake page, if the store is valid, if the merchandise is original and comes with an invoice and warranty. Sites like ReclameAqui bring complaints from buyers and responses from stores. You can also check the store on social media, its uptime, how it treats its customers and other information.
An important tip: Evaluate if the portal offers service channels and exchange policies. Note if the offer is from another company selling on the retailer's website (marketplace).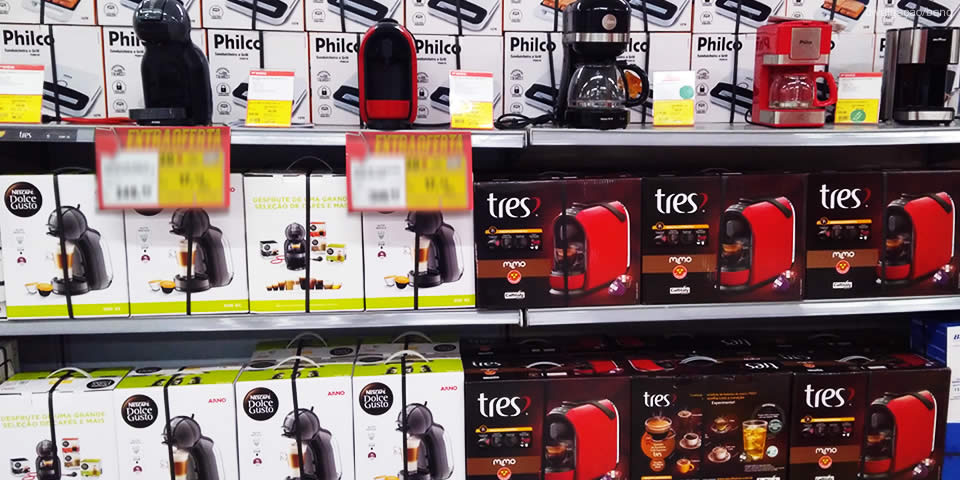 For example, on the Americanas website you will find electric coffee makers with prices marked " sold and delivered by EmpresaXYZ ". In this case, check out the exchange policies of EmpresaXYZ , and not just those of the marketplace.
Contain the impulse: If you can't pay in cash, avoid installments with interest and install the purchase in the minimum possible number. Note the value of the freight, as it may make the purchase unfeasible. Another option is to buy on the internet and pick up at the physical store.
Security is another key item that day. Do not make purchases or bank transactions in public networks, such as in squares and malls. Download an antivirus with protection module against fake websites and keep it updated on Black Friday.
It is also possible to install plugins that warn of a promotion being real or if the price has gone up, among other tricks to not fall into pitfalls. It is also important to start blocking numbers that send suspicious links via WhatsApp. No major store does stock via WhatsApp chain.
After Black Friday
The consumer can regret the purchase, with a 7-day return period (counted from the receipt of the product). The return guarantees the refund of the amount paid in the order – including freight.
In the case of marketplaces, you must initially contact the store that sold the product within the marketplace. This store is going to play the return process.
But if the company refuses to make the exchange / return or does not respond to your request, you can take the problem to the marketplace.
summing up
Black Friday is a date where physical and virtual stores promote various products. For those looking to save money by buying a coffee maker on Black Friday, we have separated the best deals for espresso and electric coffee makers.
The values ​​are obtained automatically. Check the price survey, in real-time, with the best offers … and buy your coffee maker on Black Friday!