The Oster PrimaLatte II coffee maker prepares espresso coffee using Nespresso capsules, sachets and regular powder. But is it really good? Meet this coffee maker!
Speak truth: Coffee maker that makes that delicious milk froth is all good! And now Oster has brought PrimaLatte, one more option of these coffee machines! But is the Oster PrimaLatte II coffee maker good? Check it out with us!
Versatility and economy
The Oster PrimaLatte II coffee maker was developed to prepare espressos, cappuccinos and lattes with ease. With just the touch of a button she makes all of these wonderful drinks.
But PrimaLatte's main highlight is its versatility. Thanks to an adapter kit, it allows you to make drinks using ground coffee, Nespresso capsules and ESE sachets ( Easy Serving Espresso ).
This means savings, as you are not held hostage by the capsules and will have delicious drinks prepared with ordinary coffee. In the manual, Oster recommends that coffee ground be ground fresh. However, you can use a supermarket coffee, as long as it is of good quality, strong, and pure (without sugar or other preparations).
And for those who prefer to try different flavors and aromas, with more convenience, there are all the variety of Nespresso capsules to enjoy.
Here is a note: Some consumers report that compatible Nespresso capsules do not offer the perfect fit, which can cause leaks,
PrimaLatte can also use ESE sachets, which are less well known. A wide variety of sachets can be found in specialized online stores. Some confuse ESE with the Senseo machine sachet, but they are not the same.
The function of making milk foam enables the Oster coffee maker to prepare cappuccinos and more complete and tasty lattes.
PrimaLatte design
The Oster PrimaLatte II coffee maker has a different look from other espresso coffee makers, and has its charm. Its straight lines match any environment. PrimaLatte is available in two versions: Red (red with black) and Black (black with brushed steel).
PrimaLatte Oster has unique design and colors, accentuated red and black stainless steel. A sophisticated and innovative style for your environment.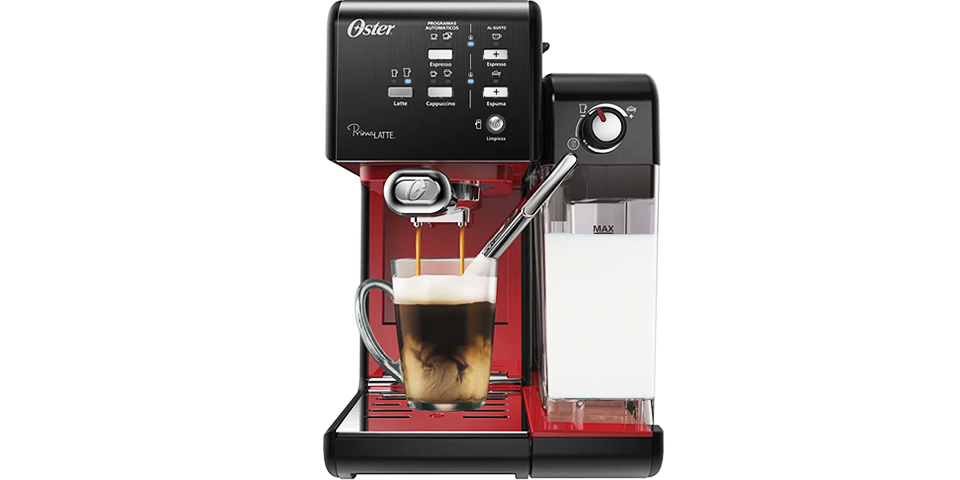 The Oster espresso machine is compact, almost the same size as the Delta Q Milk Qool Evolution. Oster is slightly smaller than Barista, from Três Corações, but has a larger milk tank (600ml).
Making coffee at PrimaLatte
The Oster PrimaLatte II coffee maker is capable of making espresso, cappuccino and latte coffees. The ease of use will please the whole family, as the panel offers full control of the features – and even allows you to make the drink your way.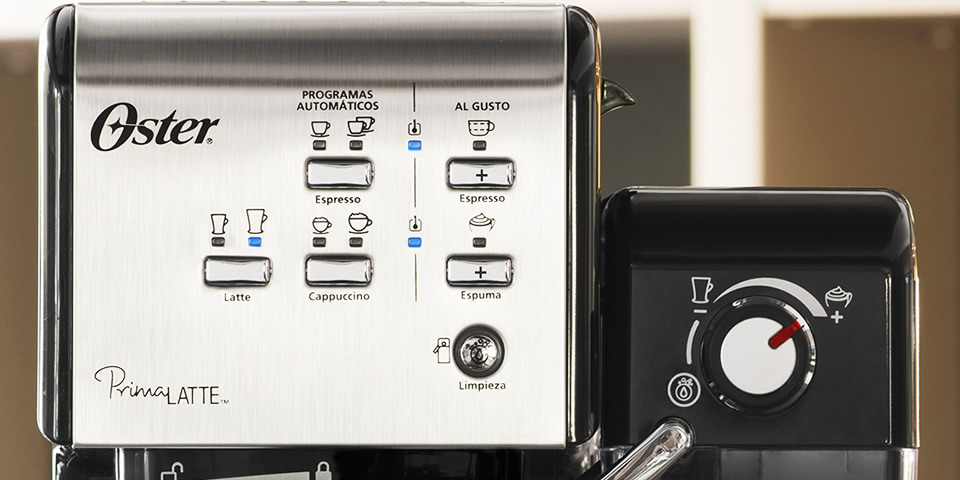 Each of the espresso, cappuccino and latte drinks has two sizes, short and long.
To make a cappuccino, Oster assembles the drink with 1/3 espresso coffee, 1/3 steamed milk and 1/3 frothed milk. Remember that this is Italian cappuccino, different from what we see here in Brazil (with chocolate and cinnamon). This one uses only coffee and milk, but this type of special preparation offers a sensational flavor.
Latte is a drink made with 1/4 espresso coffee and 3/4 steamed milk.
And cooler is that PrimaLatte does it all by itself: Just program the coffee maker and wait for your drink! She prepares up to two coffees at the same time.
If you prefer a dose of coffee in a different amount, the 'Al Gusto' button allows you to stop the dose in the amount you want. For milk froth there is a similar function.
Features of Oster PrimaLatte
The PrimaLatte II milk tank has a capacity of 600ml, ideal for preparing up to 10 cappuccinos.
For a perfect coffee at the right temperature, it also has 3 thermal sensors that maintain the ideal and constant temperature throughout the preparation.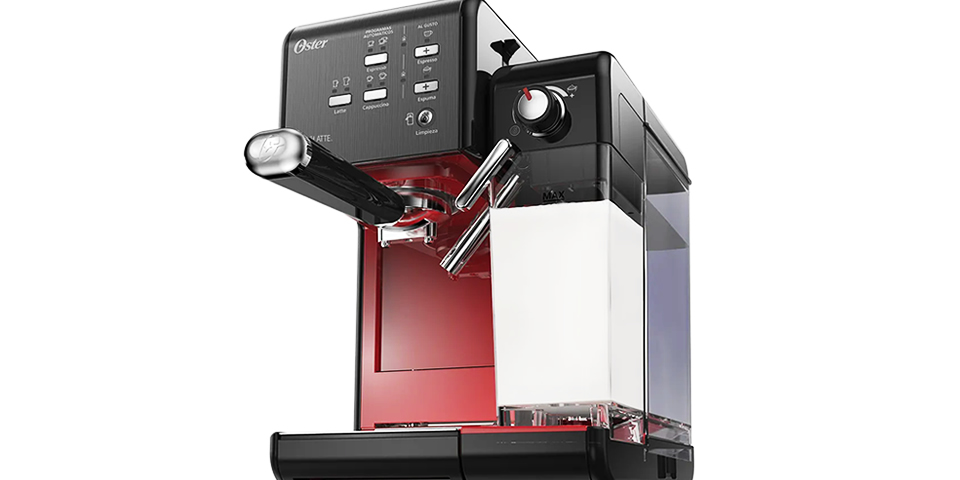 Inside, PrimaLatte has a professional pump, made in Italy, with 19 BAR pressure. This capacity guarantees a denser and tastier espresso. Just to compare, Dolce Gusto and Três Corações coffee makers have 15 BAR of pressure.
Despite the power, it makes the same noise level as other espresso makers.
With so many qualities, PrimaLatte could not be a cheap coffee maker. The cost is the average of espresso coffee makers with a milk vaporizer.
Cleaning and descaling
Keeping your Oster coffee maker clean is important. But it is not complicated.
To facilitate the cleaning of PrimaLatte, some parts are removable, and the machine has a cleaning function.
The Oster manual recommends white kitchen vinegar for descaling the machine. I'm not very much in favor of this , but as the manufacturer recommends…
Is Oster PrimaLatte II coffee maker good?
The Oster PrimaLatte II coffee maker is a good option for those looking for savings and a variety of options when making their hot drink. The variety of forms of coffee, the possibility to choose different sizes of doses / cups and the milk froth allows to prepare a huge variety of hot drinks in your PrimaLatte. The combinations are endless.
Consumers warn about PrimaLatte is that when using capsules, it can leak. So, if you are going to prepare a drink from Nespresso, be careful if the capsule is well fitted in the compartment.
The price of PrimaLatte can be a little prohibitive (around R $ 700), but it is the average of the models of espresso coffee makers with vaporizer.
If price is not an issue for you, Oster PrimaLatte II is worth buying.
Summing up
The Oster PrimaLatte II coffee maker allows you to economically prepare espresso coffees. With it, you can prepare delicious espressos using common coffee powder. Or even use Nespresso capsules or ESE sachets PrimaLatte is easy to use, and its panel offers all the functionality control allowing you to personalize your drink your way.
With 19 BAR of pressure, it has a milk vaporizer to give that special flavor to cappuccinos and other drinks. If price is not an issue for you, the Oster PrimaLatte II coffee maker is good to have at home.
Comparison of Nespresso machines: Choose the right model!
With an eye on a Nespresso coffee maker, but not sure which one to buy? Check out this comparison of Nespresso machines and choose yours!
Nespresso is a reference when it comes to espresso coffee makers. Their machines are known worldwide. And in addition to the flavors of Nespresso capsules, it also has a plethora of compatible capsules from other brands. If you are looking for a Nespresso machine but are unsure which one to buy, check out this comparison of Nespresso machines with us and choose yours!
Comparison of Nespresso machines
We have prepared a super comparison of Nespresso machines with the main characteristics of the brand's coffee makers.
For easy reference, we have divided our comparison of Nespresso machines into two parts: The most popular models and the most complete models.
Comparison Nespresso: Popular models
Nespresso has three models that are very successful with the public. They are portable coffee makers, which bring the most important functions and are not expensive.
The models in this category are Essenza, Inissia and Pixie. If you are looking for a cheap Nespresso coffee maker, the tip is to choose one of these three great espresso machines.
Nespresso Essenza Mini
This is the darling of many people, and we've even talked about Essenza here on the site. Essenza Mini is a beautiful and compact coffee maker that looks good in any corner. Its 19 bar of pressure provides extremely creamy coffees.
It has a compartment for used capsules, automatic shutdown and prepares two measures of coffee: Espresso (40ml) and Lungo (110ml).
Nespresso Inissia
Another darling of the public, Inissia is an automatic espresso coffee maker, with 19Bar of pressure to prepare much more tasty and creamy drinks.
It has automatic shutdown, reservoir for used capsules, and two measures of coffee: Espresso (40ml) and Lungo (110ml). Easy to use, just push a button to make your coffee using your high pressure pump and quick heating.
Nespresso Pixie
Small and fast, the Pixie takes just 25 seconds to warm up. It has indicator lights that inform you when the used capsule compartment is full, and when the water tank is empty.
It also has an automatic shutdown, cable storage compartment, programmable coffee volume and many more features that will offer a superior coffee experience. The model has a cooler version, the Pixie Clips, which allows you to change the side panels.
Nespresso U
Nespresso U has an eye-catching design. Inside, the 19bar pressure motor guarantees drinks with the best of Nespresso flavors. It has Drops Cutter technology, fast heating, three pre-programmed drinks, automatic shutdown and cable holder.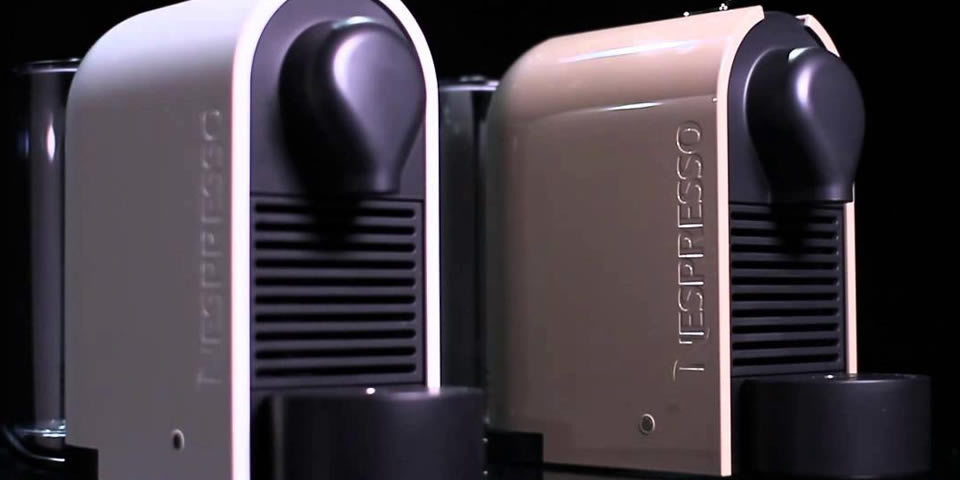 Nespresso Expert
With great features, Nespresso Expert can be considered a "smart" coffee maker. It connects to your smartphone via Bluetooth, and using an app, you manage your stock of capsules, start preparing coffee from wherever you are or even schedule the preparation time. Liked?
The good capacity of the water tank gives the Expert great autonomy. In addition to the 4 coffee measures, it also allows you to set the temperature of the drink, from warm to very hot. .
Nespresso Lattissima Touch
Modern and elegant, Latissima allows you to prepare recipes with a touch. The Latissima control panel is touch screen, where you can prepare a wide variety of drinks.
Latissima has a compartment for used capsules, an auto-off switch, a drip tray that can be folded and adaptable to a cup, and a water tank with a capacity of almost 1 liter.
Why buy a Nespresso?
Having a Nespresso machine in your home (or office) will bring good experiences. One of Nespresso's goals is to provide quality coffee and a branded machine uses the full potential of the capsule to produce a smooth, fresh and tasty drink.
Comfort is another big advantage. A Nespresso machine is by far one of the most efficient ways to make coffee. All you have to do is place the capsule in the coffee machine and press start. In just a few minutes, a barista-quality coffee comes out.
It also increases the possibility of flavors through accessories. Aeroccino is the best known, and allows you to make milk froth to make your coffee even more tasty.
While quality and comfort are great, the coolest thing about having a Nespresso at home is the variety of flavors you can enjoy. In addition to the flavors of Nespresso itself, there is a huge variety of drinks provided by other brands that are compatible with your Nespresso coffee maker. It will allow for new experiences, new flavors and even save money with cheaper capsule options.