Let's talk about the Qosy capsule coffee maker, another cool model that Delta Q brought to the Brazilian market. Access and check!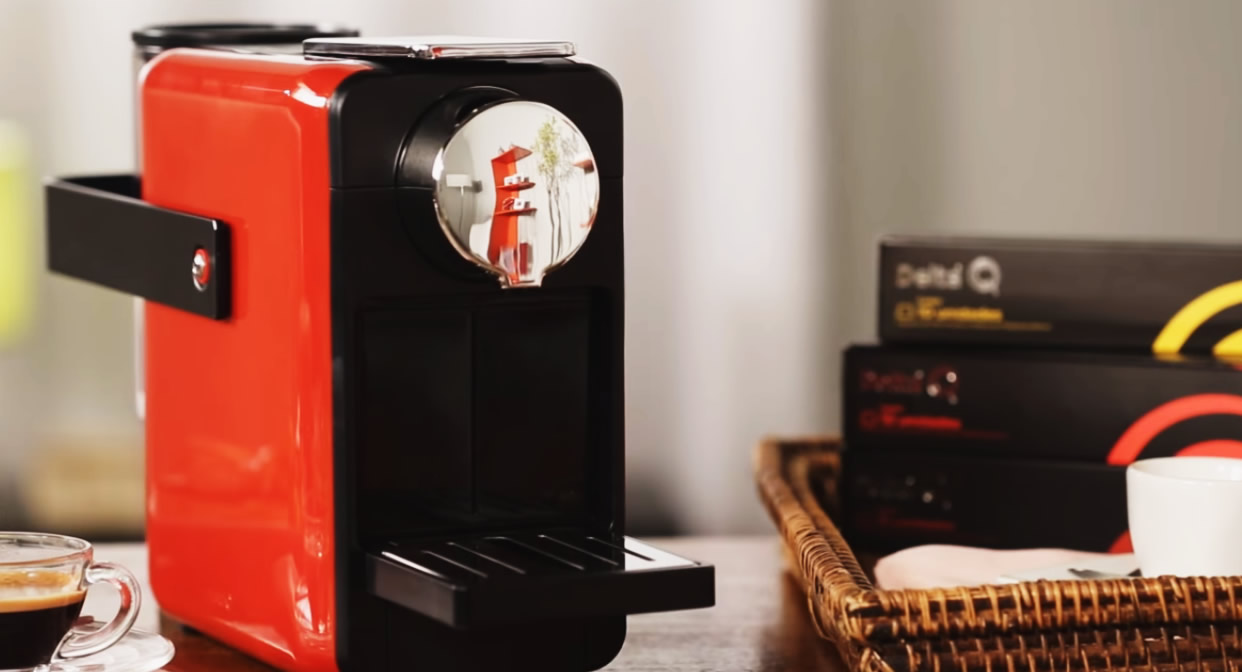 The Delta Q is a Portuguese source company that came slowly to fight with the big traditional brands already here, like Nespresso and Dolce Gusto. It is best known for the Qool coffee makers (which we have already talked about here on the website).
In this post we will know a little more about the Qosy capsule coffee maker , another cool model that Delta Q brought to the Brazilian market. Come with us and find out if the Qosy coffee maker is a good choice for you!
Qosy coffee maker good choice?
The Qosy espresso machine is compact, practical and functional, designed to bring comfort and style to its users. The name of this model says it all: Qosy comes from ' cozy ', which means ' cozy ' in English.
With automatic dosing, just program Qosy to have a drink in the right quantity and quality. Qosy is a good choice for preparing delicious coffees and teas from the Delta Q line, thanks to its 19 bar pressure.
If you value design, you must have noticed the appeal of the straight lines of the Qosy coffee maker, which ensures that it will blend easily with your environment. It has plastic and steel housing, and can be found in two colors: red and black.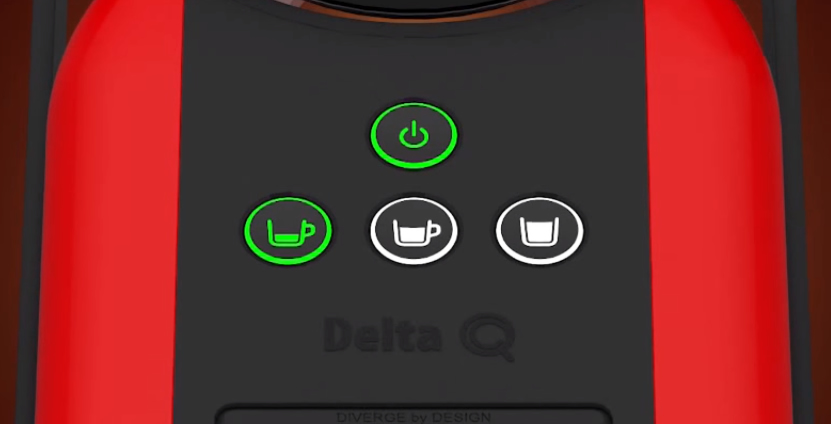 The Qosy espresso machine has programmable buttons and automatic ejection of the capsules used for the internal deposit (capacity for 8 capsules).
As its compartments are removable, it is easy to wash. The coffeemaker manual recommends descaling the Qosy every three months – or after 200 withdrawals of Delta Q capsules.
Highlights of the Qosy coffee machine
Two features of Qosy are noteworthy. The first is the movable handle at the top, which serves to secure the water repository and facilitate the transport of the coffee maker. As the coffee maker is compact and light (weighs approximately 4kg), the handle is an invitation to transport your Qosy from the office to home or vice versa.
The water tank of the Qosy electric coffee maker has a capacity of 0.7l (slightly less than the Qool model). But here is a second differential from Qosy: It has an adapter that allows you to place a bottle of mineral water as a water reservoir.
Yes, it allows you to use these little plastic bottles that we buy mineral water! For you who value the quality of your drink, it will certainly provide purer and more striking flavors.
Is the Delta Q Qosy coffee maker good?
With all these great features, you realize that Qosy is worth analyzing for its versatility and the features it offers.
Perhaps the cost benefit is that it doesn't help much. On websites, it costs a little more than Qool models, from the same manufacturer, and is in the same range as the competition – that is, it is the price that can overshadow Qosy's qualities and drive away buyers.
So you don't waste time, we help you find the best price ?
About Delta Q
Founded more than 50 years ago, Delta Cafés is present in more than 35 countries. In 2012, Delta Cafés created Delta Foods Brasil and launched Delta Q, a line that combines quality and innovation with espresso coffee machines in capsules.
Currently, the brand is present in the Brazilian market with single-dose machines, in addition to coffee capsules and infusions.
Summing up
The Delta Q Qosy coffee maker has arrived to compete in the espresso machine market. It has a nice design, is compact and simple to use. The price could be a differential to compete with other more traditional brands, but it is not. That is, Qosy costs the same as other more traditional brands, such as Nespresso and Três.
Coffee maker Lov Três Corações is good? See analysis!
Is the Lov Três Corações coffee maker good? If you have little space, yes. Find out more about this coffee maker, its main functions, price research and more!
After the Pop coffee maker, Três launched the Lov espresso machine on the market. The model is already available in stores throughout Brazil, and draws attention for its more compact design. But is the Lov Três Corações coffee maker good? See our review!
Features of the Lov Coffee Maker
The Lov coffee machine is one of the newest models that Três launched in the country. Right away, the model stands out for its design. Lov is more compact than other models, such as Modo and Versa – although slightly taller. In fact, smaller coffee machines are an old requirement of consumers.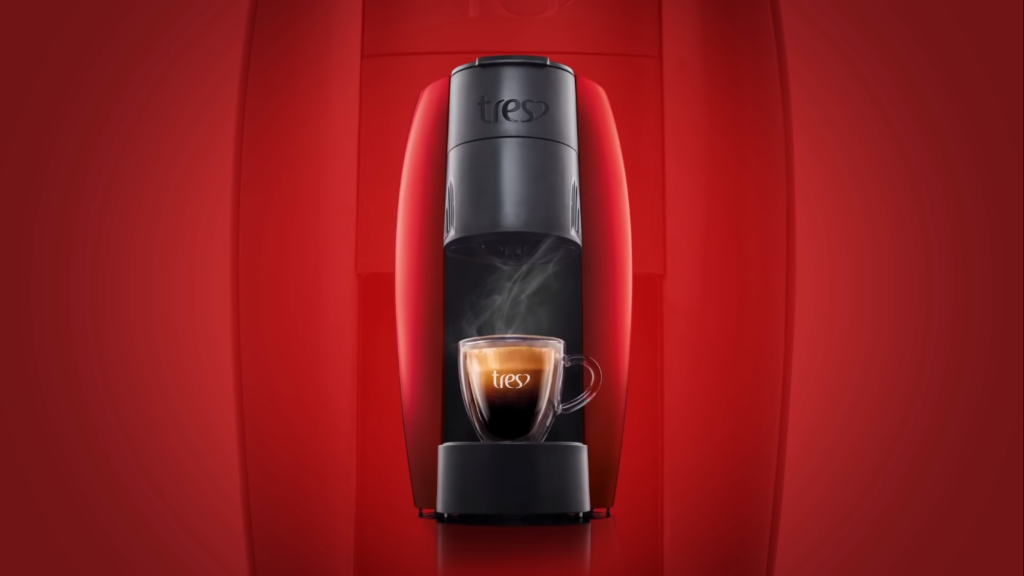 Anyway, this design alternative is smart, it will save space and allow you to place the coffee maker in any corner. Lov has six color options to choose from: white, red, silver, matte black, glossy black and carbon.
And the Lov coffee maker is not just a pretty face. It is an automatic machine, that is, it controls the flow of water by itself so that you have the right amount of water in your drink (different from Piccolo, for example).
Speaking of which, Lov is a multi-drinker. This means that with this single machine you can make espresso, creamy drinks, cappuccinos, filtered coffees and teas. Lov's pressure varies between 15 and 2 BAR, ensuring the right pressure for each drink. The Lov coffee machine also has a modern pre-melting system, which moistens all the particles in the preparation of your favorite drink. The result? a drink with perfect aroma and flavor.
Like the other Três coffee makers, Lov is very simple to use. It has three buttons, each for a different type of drink. For example, orange is for espresso (50ml), blue for cappuccino, hot drinks and chocolate (80ml) and green for filtered coffees and teas (100ml). In 30 seconds, your drink is ready.
The Lov coffee maker has an external container to dispose of used capsules, has an adjustable cup holder and comes with a backwash capsule, which allows cleaning the coffee machine.
Like the other Três models, the Lov coffee maker has an operating light, removable water tank with water level indicator, energy saving mode and automatic shutdown. The model is manufactured with ABS plastic, which offers strength and durability, and is not bivolt.
Comparing: Lov vs Modo vs Versa
To show that Lov is a coffee maker that deserves your attention, let's compare it to two models from Três, which are in the same price range.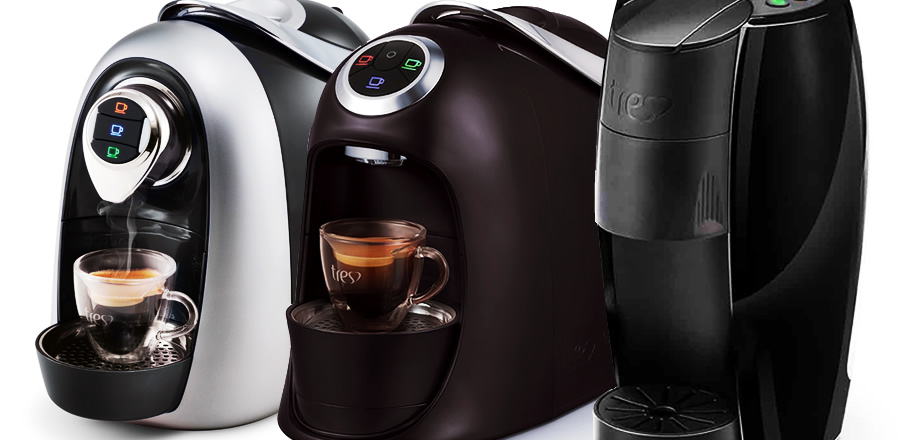 Check out the comparison of the Lov coffee maker with other coffee machine models:
| Model / Feature | Lov | Mode | Versa |
| --- | --- | --- | --- |
| Automatic | Yes | Yes | Yes |
| Reserv. of water | 950ml | 1.2l | 1.2l |
| Pressure | 15/2 BAR | 15/2 BAR | 15/2 BAR |
| Weight | 3kg | 4kg | 4kg |
| Price | R $ 377.70 | R $ 342.90 | R $ 389.90 |
As we can see, Lov is lighter and has a water tank with a lower capacity than the Versa and Modo models. The pressure capacity is similar to that of the other models of coffee maker Três.
Is Lov coffee maker good?
If you are looking for a coffee machine to make your days more delicious, the Lov coffee maker is good, and worth buying. Occupying less space, Lov has a cool design, available in colors that will match your environment.
The Lov coffee maker is worth it for delivering the quality of Três coffee makers in a compact, modern product. As it has a reservoir with a capacity of less than 1 liter, Lov is good especially for those who live alone, or couples without children. If there are many people making drinks at Lov, the smaller capacity of the reservoir requires constant water replacement.
Costing from R $ 350, Lov is good for offering a fair cost benefit. If you're dating an even cheaper coffee maker, take a look at whether it's automatic. Cheaper coffee makers do not have this feature, and it makes a difference in the daily use of the coffee machine.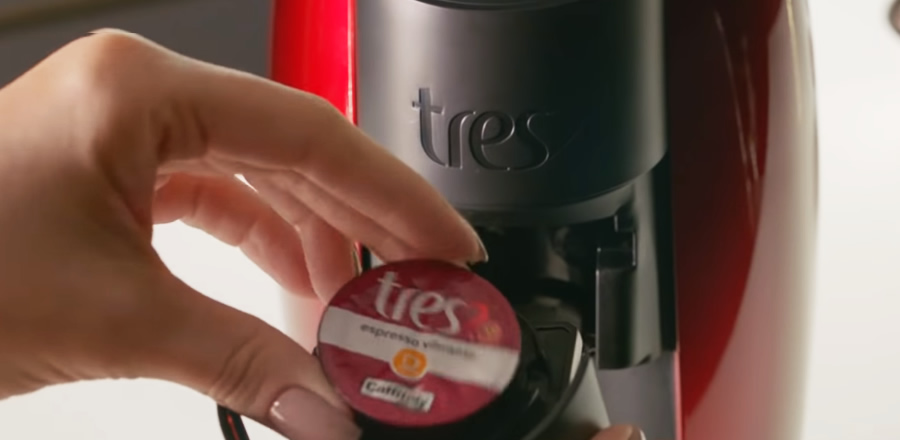 In short, the Lov coffee maker is good and worth buying. Combine it with a nice capsule holder to make your environment more stripped and modern! Want to save? check out a price survey for the Lov coffee maker from Três!
Summing up
Lov by Três Corações is a good option for those looking for a modern capsule coffee maker that takes up less space in the kitchen. It has the Três Corações quality, besides having a great line of capsules with different flavors of drinks.