The Pop of Três Corações is beautiful and compact. But is the Pop coffee maker good? Check out everything about Pop, in addition to price research!
Três brought an excellent Cafitally product to the Brazilian market: the automatic POP coffee maker. With striking design and functions that make the user's life easier, it will surely be very successful. Keep reading and get to know all about the POP Três Corações coffee maker!
Style for your home
The name of this coffee maker already says a lot about you: it has everything to do with modernity and style. Right away, the design is a strong point of the Três Corações POP coffee maker. Available in red and black, the POP is a coffee maker that at first glance impresses with style.
Its straight line design with black plastic parts fuses modernity with a retro touch. Compact, the device fits well even in the smallest spaces in your environment.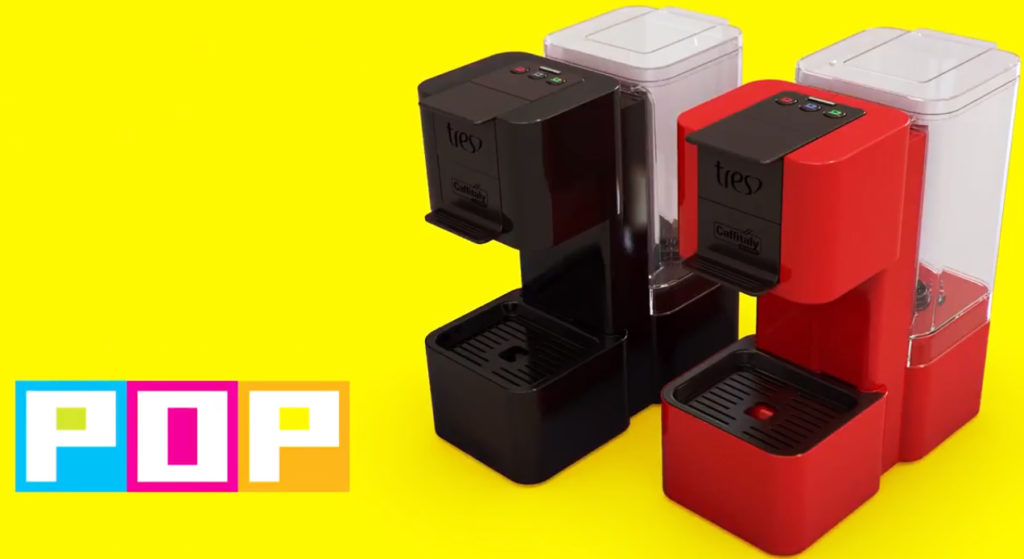 The POP Três Corações coffee maker weighs about 4 kg, making life easier for those who want to transport it to work, for example. Combine it with a nice capsule holder to make your environment more stripped and modern!
Full of features
The Três Corações POP coffee maker is not just a pretty face. On the contrary, she is quite competent when it comes to preparing her delicious coffee. The POP coffee maker is automatic, that is, it automatically cuts off the water flow when making the 19 compatible types of drinks.
It is also multi-press, making espresso, filtered, cappuccino, tea and hot drinks with 15 and 2 BAR pressure. The model is manufactured with ABS plastic, which offers strength and durability.
The water tank of the POP espresso machine is removable and has a capacity of 1.3 liters. The support tray (where the cup is placed) can also be removed to facilitate cleaning, or even to make the cup taller.
A novelty is the security system, which prevents the capsule holder from being removed during operation. In fact, the POP coffee maker does not have a compartment for used capsules. Like the other Três models, it is not bivolt: be careful when choosing yours.
Enjoy the good price
Are you interested? The price of the POP coffee machine Três Corações is another good surprise of the model. In stores, it is possible to find POP for values ​​ranging from R $ 300 to R $ 400.
POP coffee maker in Brazil – and Iris in Italy
Launched at the end of September / 2017, the POP Três Corações coffee maker arrived to increase the range of options for those who want to have an espresso coffee maker at home. The arrival of the POP model to Brazil is another action of the partnership between the Italian manufacturer Caffitaly and the group Três. There in Italy, the POP is known as Iris S27, and has two more color options (white and silver).
Promotion 200 reais in capsules
This model participates in the promotion of Três, which offers R $ 200 in capsules for those who purchase a brand new coffee maker. So you get off to a good start with your POP Três Corações: you save money with the purchase of capsules, and you can even taste the most delicious drinks from the brand. It's another good reason to run and buy your POP coffee machine! Check the validity of this promotion.
Summing up
Pop Três Corações is a good option for those looking for a basic coffee maker to have at home or at the office. In addition to being beautiful and practical, it is simple to use and clean. And it is still one of the cheapest models of espresso coffee makers on the market. Only advantages!
Delta Q QOOL Evolution Coffee Maker: Is It Worth It?
Delta Q QOOL Evolution is one of the cheapest coffee makers on the market. But is it worth buying? Check out our review!
The Brazilian market recently gained new options for espresso makers, with the Delta Q line. With interesting features and a competitive price, Delta Q has won over many consumers. Let's talk about the Delta Q QOOL Evolution coffee maker, a model that has caught the attention of consumers. Check out!
Coffee maker of Portuguese origin
Although not well known in Brazil, Delta Cafés is one of the sales leaders in Portugal. Born in 1961, Delta is a traditional Portuguese coffee roasting and packaging company.
Since 2007 it entered the coffee market in capsules to fight with Nespresso, Dolce Gusto and other brands. The various quality awards received for the coffees produced by the company show that they really understand the subject.
Delta Q QOOL Evolution
Now, let's go to the coffee maker. Delta Q Qool Evolution is one of the company's most popular models here in Brazil, in addition to QOOL Auto. The design of the coffee maker is very modern, and you can remember at first glance the model of the competitor Nespresso.
With three color options (white, black and red), your reservoir has a capacity of 1 liter of water, and a height-adjustable tray. The used capsule compartment has a capacity of 10 units.
Another interesting feature of Qool is the energy saving mode. After 15 minutes of non-use, the automatic Qool goes into standby to save energy.
The price is a strong point of this machine. You can find it on the internet for less than 200 reais.
Delta Q QOOL Evolution: How to use
Evolution is a very simple to use coffee maker. The three front buttons allow you to choose the coffee grade (espresso, long and tea). As it is an automatic coffee maker, you don't have to worry about the right amount of water.
Just choose the appropriate option for the capsule and ready, the machine cuts off the water flow when it reaches the measure. And the measures are programmable, that is, it is possible to adjust the machine to make a stronger or weaker coffee.
An indicator light (red) alerts you when a compartment is open, when water is missing, or when the capsule disposal compartment is full.
Delta Q Capsules
We know that capsules are a decisive factor when choosing a coffee maker.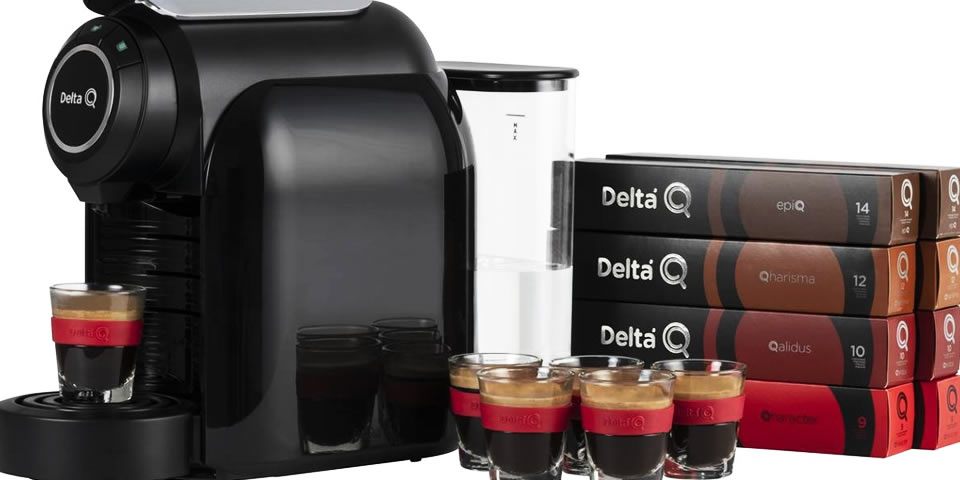 Is the Delta Q QOOL coffee machine good?
The Delta Q Qool Evolution Espresso Coffee Maker has a modern and innovative design, with ABS finish and 3 bright color options. There are 3 extraction buttons: short, long and teas, in addition to programmable buttons for drink size.
The tray is adjustable for 2 different cup sizes and a flag alerts you when the used capsule compartment, with a capacity of 10 units, is full.
With a modern design and easy and intuitive use, the Delta Q Qool Evolution espresso machine was created thinking of all those who appreciate innovation and value the extraction capacity and simplicity in use.
Costing around 200 reais, Delta Q Qool Evolution is a good cost-effective option. Pay attention if there are Delta capsules for sale in supermarkets in your city.
However, if buying capsules over the internet is not a problem for you, Delta Q Qool is a good (and economical) choice.
Comparison Dolce Gusto: Choose the ideal model for you
Dolce Gusto has several beautiful coffee makers, and certainly one of them is perfect for you. Check out this Dolce Gusto comparison and choose yours!
When choosing an espresso coffee maker, you must consider some important factors in order to buy the ideal coffee machine for your home or office. Dolce Gusto has several models available in the Brazilian market, and for sure one of them will suit your taste. With that in mind, we have prepared this Dolce Gusto comparison specially for you!
Comparative Dolce Gusto
For this comparison, we separated 6 models of coffee makers from Dolce Gusto: the new Drop model, the Genio II, Mini Me, Movenza, Infinissima and Lumio.
In this comparison, we can see that the top model of Dolce Gusto is the Movenza, whose main feature is the retractable body. It is the most expensive, costing around a thousand reais.
At the other end, we have the most basic models: Genio and Mini Me. The comparison shows that, between the two, it is more interesting to acquire Genio: it has a larger water tank, capsule container and stainless steel tray. And for the same price!
Why buy Dolce Gusto
If you are still not sure if the Dolce Gusto coffee maker is worth it, here are some reasons to buy yours in this post. We have also listed some criteria that you should take into account when choosing your coffee maker in this other post.
Features of Dolce Gusto coffee makers
All Dolce Gusto coffee makers have some features in common: 15 bar pressure, hot or cold drinks selector, and energy-saving mode, plus more than 20 Nestlé beverage flavors for you to make ( and even have compatible capsules, which are made by other companies ).
Summing up
The Dolce Gusto machine not only prepares coffees and other beverages, but provides unspeakable moments of everyday life, especially for lovers of good coffee.
This comparison of Dolce Gusto coffee makers reveals that the machines have similar characteristics (15 bar pressure, hot or cold drinks selector and energy saving mode). But some items, such as touch controls and water tank capacity, vary by model. Dolce Gusto coffee makers are cost effective.
The design of the Dolce Gusto coffee machines is the great differential: They are true works of art created to beautify your environment and make your day more pleasant.