It is a medium investment solution compared to traditional coffee makers. However, if thought about in the long run, the capsule coffee maker can generate savings, with no more waste of coffee, which is very common in the traditional process.
In many cases half of the bottle ends up being poured into the sink drain, either because it has cooled, or because the taste is no longer pleasant. In addition, the capsule coffee maker works with more pressure, ensuring the quality of the coffee. Regarding the preservation of the aroma and flavor of the drink still in its storage process, as they are individual portions, the capsules do this job better.
The traditional powdered coffee boxes, on the other hand, usually lose quality until total consumption. After opening, they stay long weeks in pots that are opened and closed daily.Benefits
Espresso quality coffee even at home
Fresh coffee with every cup
Preparation in a few seconds
Variety of drinks
Easy to clean
Disadvantages
Machines usually cost more
The capsules produce plastic waste
What is the difference between capsule and electric coffee makers?
You already have a lot of information about the capsule coffee maker. And we are sure that you already know that good old traditional electric coffee maker.
In short, the electric ones have a simple water heating system, which passes through the coffee powder, being filtered and making you quickly have a hot and well-dosed coffee. They are practical, just put the coffee powder, fill the water tank and turn on.
In a few minutes the coffee will be ready in the glass refractory. It is ideal for families, there is no point in connecting an electric coffee maker to produce a cup of coffee. And that is the big difference between the two.
Also, the electric coffee maker, different from the capsule, requires a filter, so also consider this expense. Of course, they use ground coffee. Compare in the table below:
| | Capsule coffee maker | Electric coffee maker |
| --- | --- | --- |
| Practicality | It's practical and quick | It's practical and quick, but it still takes a little longer |
| Ideal for | Produce a cup of coffee, especially for those who like to try different types of drinks | Families, since it produces more quantity. In addition, it only makes traditional coffee |
| Durability | Long durability, does not contain fragile parts | Refractory glass can break if not handled with care |
| Investment | Medium to high | Low to medium |
How much does a capsule coffee maker cost?
The price of these capsule coffee makers can vary widely, depending on the machine's functionality. Design and size also influence this factor. But what determines the value of such a machine is whether the brand is already consolidated and also the quality of the coffee it produces.
You find some offers worth R $ 150 from less expressive brands. It is already possible to find good machines starting at R $ 250. However, those with better functions can be purchased for an average price of R $ 600. Some more modern ones can vary between R $ 900 and R $ 1,200.
The capsules can vary between R $ 2 and R $ 3 per unit. But it is possible to find kit promotions with 150 capsules for R $ 250. This guarantees a price of R $ 1.66 per unit.
Where to buy a capsule coffee maker?
Due to the popularity of these coffee makers, today you can find them in several places, from supermarkets, department stores or even online stores. Some examples are:
Amazon
American
Submarine
Magazine Luiza
Cold spot
In the very selection of the best capsule coffee makers we made for you, there is a link where you will be directed to a website and can make your purchase right now.
Purchasing Criteria: Factors to Compare Capsule Coffee Maker Models
This question is very important. Understanding your needs is essential to ensure you choose the right machine for you. And as we want to make the process easier for you, some features will serve as a guide to make the right decision when choosing your machine.
Practicality
Cleaning
Variety of drinks
Size
Home or business use
We will detail each of these items below, so you can make the best choice when buying your capsule coffee maker.
Practicality
Ease, practicality and agility are what most capsule coffee consumers want. So analyzing how the machine works is very important. Ask questions like:
Does the device require many or few steps?
Is it easy to understand and use the buttons on it?
How fast does she work? Does it make a lot of noise?
It is important to analyze and compare all these criteria to ensure satisfaction and not have to deal with any surprises when the product arrives at your home.
Cleaning
If agility is important when making coffee, imagine when cleaning the machine. Considering whether the appliance is easy to clean is essential to optimize time. Check if there is a backwashing process, if you can easily detach some parts for cleaning, if the design makes cleaning the machine easier on the outside.
Some machines may be easier than others when cleaning, and if that is an important factor for you, analyze the structure of the machine as a whole.
Variety of drinks
What are your tastes? Do you prefer traditional espresso? Do you like to try new types of drinks? Do you have children at home?
Understanding your preferences and your reality facilitates the right choice. Analyze, why would you buy a machine that makes 25 different drinks if you know you will always opt for espresso?
Now if you like to vary between different types of coffees, teas and chocolate-based drinks, or even have children at home, it is worth purchasing a machine with a wide variety.
Size
Although some people do not consider this to be an important factor, checking the dimensions of the machine makes you plan the ideal corner for it. Often people idealize the size and end up being disappointed when they do not check the dimensions especially when buying online.
Have you ever thought if you are looking for something small and light and are faced with a machine that takes up more space than planned? If you like to move the object, the more compact the capsule coffee maker, the better. Pay attention to the dimensions.
Home or business use
So far we have talked more about the domestic use of the capsule coffee maker. But it is very common for small businesses to opt for this solution to provide coffee to their employees. This factor may be important for your purchase, so you need to look at some important aspects.
What is the capacity of the water tank? It is natural that a company needs a machine with a larger reservoir due to the flow of use. Just as choosing a coffee maker that has the cheapest capsules also matters.
Checking if there is an energy-saving function can be essential, since the coffee maker must stay on all day in the company.
The 5 Best Nespresso Coffee Makers in 2019
In doubt about which Nespresso coffee machine to buy? Check our list and choose the ideal model for you.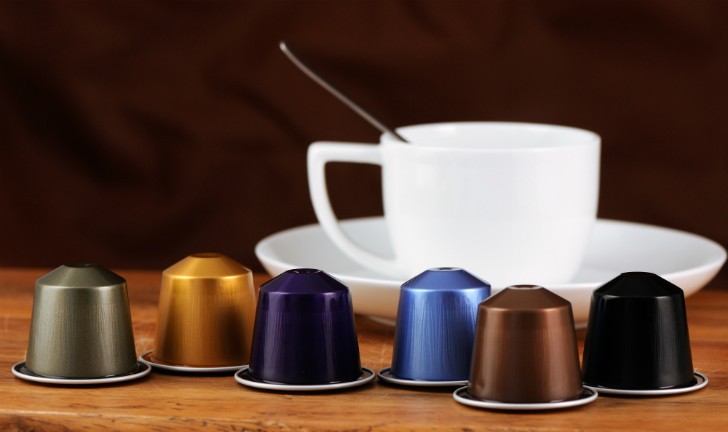 Right after waking up, after lunch, in the middle of the afternoon … Each one has a favorite situation, or several, to have a coffee. But one thing is for sure: good espresso must be creamy and full of flavor and aroma. And that is the promise of Nespresso coffee makers.
And what draws attention in these espresso makers, at first, is the modern design that suits any environment, whether at home or at work. But they are not just in style, no, because they are usually very practical to use and prepare espresso in just a few minutes, since the water heats up very fast.
There are several types of coffee in capsules that you can choose to use at Nespresso, with different aromas and intensities. And the price of Nespresso capsules varies between R $ 1.90 and R $ 3.00. But, although it is recommended by Nespresso itself to use original capsules of the brand, nowadays we can find several compatible models on the market. It is always good to remember, however, that these alternative capsules can offer drinks with different characteristics than traditional ones.
But let's get down to business? Check out the 5 best Nespresso coffee makers of the moment!
5. The most popular Nespresso coffee maker on Zoom: Nespresso Inissia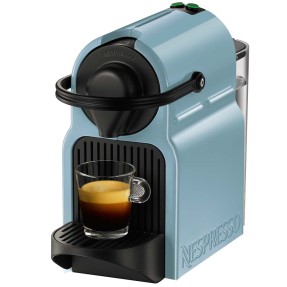 Whether for being compact or for having an attractive price, Nespresso Inissia is one of the most sought-after coffee makers here. And since it is also one of the best Nespresso machines at the moment, I couldn't be left out of that list. And the cool thing about the Nespresso Inissia coffee maker is that it is very compact and fits in any corner of your home or office. It is practical and prepares 2 sizes of coffee, 40ml or 110ml, just place the capsule and press the button.
Features of Nespresso:
19 bar pressure
700ml water reservoir
Automatic shutdown
4. Nespresso Pixie Clips offers several side panel options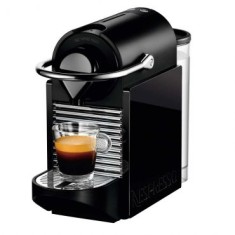 A simpler but stylish model, Pixie Clips is the best Nespresso coffee maker for those who want to have several possibilities for personalization. That's because it has removable sides and several panel options, with different designs, for you to modify the look of your coffee maker whenever you want. It is a compact model, just like the Nespresso Inissia, with quick heating and automatic shutdown in a few minutes after preparing the coffee, so as not to waste energy unnecessarily.
Features of Nespresso:
19 bar pressure
800ml water reservoir
Automatic shutdown
Removable sides and multiple panel options (sold separately)
3. Nespresso UMilk comes with Aeroccino integrated into the coffee maker
If you want a modern and practical coffee maker, Nespresso U memorizes the size of the coffee you make the most, so you only need to put the capsule on, close the lid, and Nespresso does the rest, including discards the used capsule automatically. Now, if you want it all and still enjoy a cappuccino from time to time, you can opt for the Nespresso UMilk coffee maker, which comes with the integrated Aeroccino to prepare the milk froth used in the preparation of other drinks besides the traditional espresso.
Features of Nespresso:
19 bar pressure
800ml water reservoir
Comes with Aeroccino
Automatic shutdown
Automatic capsule extraction and disposal
2. Nespresso Lattissima coffee maker prepares Cappuccino and Latte Macchiato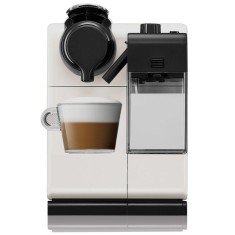 With touch buttons , quick heating (25 sec.) And milk container, which can be taken to the refrigerator, this is the best Nespresso coffee maker for those who like the "Café com Leite" combination. There are 3 pre-programmed recipes for you to make your favorite drink, in addition to 3 sizes of the traditional espresso. And you can even adjust the texture of the milk foam according to your preference, just turn a button. The Nespresso Lattissima Touch coffee maker still has a high pressure pump, with 19 bar, as well as the other models on the list, which is ideal for preparing very creamy coffees.
Features of Nespresso:
19 bar pressure
900ml water reservoir
350ml milk reservoir
Automatic shutdown
Cleaning and descaling alert
1. With Bluetooth, Nespresso Prodigio is the "connected" coffee maker
That's right, the best Nespresso coffee machine of the moment has Bluetooth for you to connect your cell phone and be able to manage the stock of capsules, place orders and even schedule the preparation of coffee quickly and easily. With Nespresso Prodigio you can do all of this through the Nespresso app, available for iOS and Android. Another advantage of this Nespresso coffee maker is that it warns you when the capsule supply is low, when the water tank is empty or even when it is necessary to empty the used capsule container and do maintenance and cleaning. That is, a complete and modern coffee maker.
Features of Nespresso:
19 bar pressure
800ml water reservoir
Automatic shutdown
Empty water tank warning
Capsule low stock warning
Cleaning and descaling alert
Smartphone connectivity via Bluetooth